Inside Silverton Artworks at 1028 Blair Street an Artist's haven beckons filled with artwork, clay, glazes, tools, looms, and yarns.
Surrounded by her textured and colorful images, Ruth Ann Caitland resides in her studio and gallery where she creates artwork reflecting the four threads of her "personal weaving," learning/teaching, children, art, and books. Caitland's interest in art began with an oil painting class when she was nine years old. When she attended St. Louis University and Southern Illinois University, Caitland majored in Art (weaving and pottery) and special education.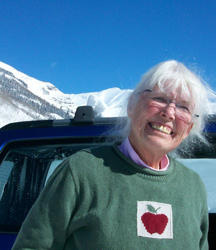 In 1982 Caitland moved to Silverton and opened the Silverton Artworks with her former husband Andy and their one-year old son Joseph. Since 1993 Silverton Artworks has been a one-woman gallery, displaying Caitland's pottery, basketry, and wearable weaving. Caitland's pottery includes unique functional pieces that combine throwing and hand building techniques and hand built fantasy characters that were influenced by her interest in global ancient folklore.
Hand-built clay dragons and chimeras or masks showing composites of three or more mythological creatures were inspired by Chinese, Japanese, American Indian, and Far East Indian Ancient Mythology. In the last twenty years, Caitland has built 22 good sized clay trolls influenced by Scandinavian folklore.
Caitland is a naturalist and a collector. She makes her own glazes and is always collecting finds to incorporate into her pieces. Wood "findings" are used as handles for her basket weavings, while iris and cattail leaves are added to the basketry. Caitland colors her wool and cotton wearable weavings with natural dyes. she finds spinning a soothing and recharging experience and has created an assortment of ruanas (South American styled ponchos), throws, shawls, and scarves.
Her personal weaving continues beyond Silverton Artworks. Caitland is a night librarian at the Silverton Library and a retired teacher.